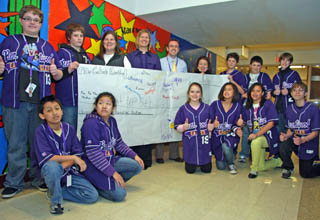 Can You Help With A Fundraiser? Yes….And the Children Shall Lead! Thank You Brentwood Middle Elementary For Helping Keep The Needy Warm This Winter!
We welcome schools on all grade levels, retailers, companies, clubs and other groups to help develop an in-house fundraiser for Heat-Up St. Louis or Cool Down St. Louis, and send us some photos and we will post. For larger public fundraisers requiring our cooperation, please call 314-369-7407. Thank you, so very much. Melanie DiLeo, Board Chairwoman.
Get Up With The Rosters and Rise & Shine!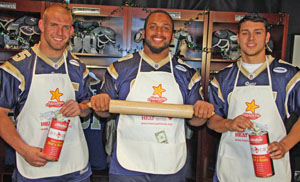 The St. Louis Rams NFL Encourage You To Rise and Shine for Heat-Up St. Louis. Employees of the Rams Join 675 Volunteers As Official Greeters….See ya!
Vatterott Colleges Cool Down St. Louis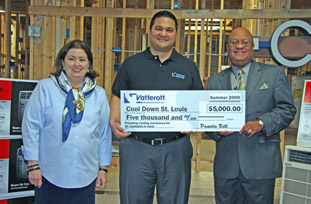 (left to right) Melanie Dileo, Cool Down chairwoman, accepts a
$5,000 donation from Raymond Ada, director of North Park campus
as Rev. Earl E. Nance, Jr., chair emeritus looks on.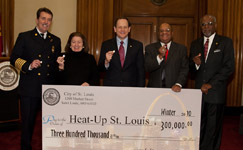 EVERY RED CENT, HELPS HEAT-UP ST. LOUIS
(left to right) Fire chief Dennis Jenkerson of the Greater Missouri/Illinois Fire Chiefs Association, Heat-up St. Louis chairwoman Melanie DiLeo, St. Louis Mayor Francis Slay and board member Rev. Earl E. Nance, Jr., and St. Louis County Executive Charlie Dooley hold up brand new pennies in support of this year's winter 10th anniversary kick-off, "Every Red Cent, Helps Heat-Up St. Louis." Also a City of St. Louis check for $300,000 was presented to the regional charity to help area needy residents with their heating bills this winter. Call 314-241-7668 for utility help, if you are a senior, disabled or low -income person. (photo by Barlow Production)
The Columbia and Pattonville High School Football Players



Joined By Area Firefighters, Black MBA, and Young Professionals from the Urban League, College In-Bound students, Citi, St Vincent DePaul and so many others volunteered to help seniors, and the disabled stay safe and warm this winter. Please touch the bucket and go to our donation page; or click on membership for the holidays.
Thanks to Ms. Boyd's Nipher Middle School Class for Raising More Than $500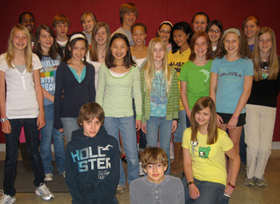 AmerenUE Donates 100 Air Conditioners to Cool Down St. Louis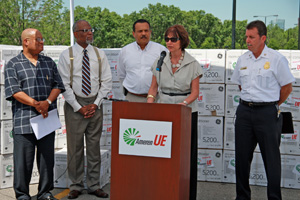 Here (L-R-) Rev. Nance, Charlie Dooley, Richard Mark, Denise Liebel at podium and St. Louis Fire Chief Dennis Jenkerson of the Fire Chiefs Association of Greater St. Louis.
Members of all Faiths are Encouraged to make Special Donations or Collections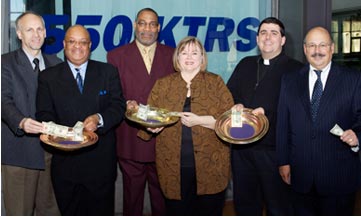 Individuals can Click Here!