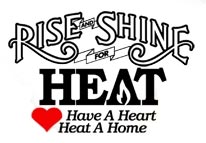 21st Annual

Hardee's Rise & Shine® for Heat




Friday, February 12, 2021; during breakfast hours
Are you ready to Rise & Shine?
6:00 – 10:30 A.M.
---
750 Volunteers Rise & Shine Annually!

---
TO: All Potential Volunteers

This is the 20th year that Heat-Up St. Louis has been helping the needy with utility assistance in the St. Louis region, impacting the lives of more than 660,000 needy people, and there is no better way to kick off the year than with the annual Hardee's "Rise & Shine® for Heat" fundraiser. This year, because of you, and the public, has raised $705,000 – a 23% increase over last year. Monies collected in Missouri and Illinois stay in their respective communities. We've learned that thousands of households are still paying winter heating bills from 2019, while paying down their cooling bills, as well as facing this winter — those are tremendous challenges.
The 21st Annual Hardee's "Rise & Shine® for Heat," is scheduled for Friday, February 12, 2021, during breakfast hours. It's one of our most critical fundraisers, especially with the live-roadblocks by all of the area radio and television stations. Each year hundreds of media, business, civic, religious and political volunteers come out as Official Greeters at various local Hardee's units for at least one hour, (they can and do volunteer longer) and welcome the customers at the drive-thrus, parking lots and in the dining rooms. Last year, Hardee's "Rise 'N Shine® for Heat" had 750 volunteers. In addition, they take extra donations from the public. Hardee's offers a Sausage or Egg Biscuit Sandwich for the special price of $1.00, and 100% of all sales proceeds go to us.
As an official "greeter," it has been quite rewarding to see a warm glow on the faces of the Hardee's customers, and neighbors making a difference. Official greeters have been very successful in obtaining additional donations from the customers. The word "official" includes all types of people and groups as volunteers for this grassroots morning effort. This is also a media and political neutral event, and all of the media have traditionally been involved in roadblocks during the 6:00 a.m. – 10:30 a.m. drive time.
All VOLUNTEERS will receive: Hardee's a souvenir apron with money-pockets, instructions, your time frame, complimentary breakfast coupon and unit location. If you have any questions, please do not hesitate to call Tim at 314-369-7407, and fax back the volunteer sign-up sheet to 314-241-1860, or if the line is busy, 314-932-5405. You can also scan your form and e-mail it to us at: [email protected]. Additional forms are available on-line at www.heatupstlouis.org, in case you wish to e-mail, Twitter or Facebook a friend or business associate.
PRE-ORDERS: Some companies annually work with their respective Hardee's manager to obtain pre-sale sandwich orders for their staff. To do pre-order forms only, you can fax the request to the attention of Tim, Rise & Shine Coordinator, at 314-932-5405 or email for additional inquiries only. The deadline to pre-order is Wednesday, February4, 2021. 
We look forward again to the unilateral support of the community. Please sign up early! Remember, Every Red Cent Helps Heat-Up St. Louis.